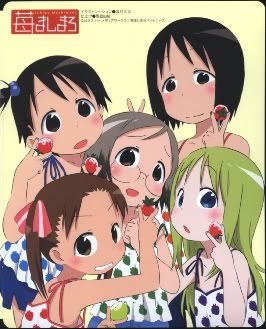 Talk about huge disappointments. The Ichigo Mashimaro english dub is … terrible ~_~
I felt like making a post just to let out my rage. i was extremely unimpressed by the english dub
Breaking it down by character…
Ana Coppola (Katie Rowan) - I was so disappointed with her performance. For one thing, Katie Rowan's voice didn't fit Ana AT ALL. She sounded like a 20 year old with an attempted younger tone. It didn't fit Ana at all. She should have at least added a shy and whispery tone to fit Ana's character, but it just didn't work. I was disappointed with Ana's voice the most ~_~
Itoh Chika (Wendy Morrison) and Matsuri Sakuragi (Kylie Beaven) - Liked the voices, but the voices didn't match the characters. I wish Chika and Matsuri would switch voices. Then they would like totally fit since Chika's voice has a shy tone to it, and Matsuri's voice sounds a bit more out going. The thing is, Kylie Beaven's voice lacked emotion a LOT of the time. But i was alright with Chika's voice, dispite the fact that it didn't really fit.
Miu Matsuoka (Caitlynne Medrek) - No ~_~ I hated Miu's voice. It was unbearable. As an actor, she's not bad… but it wasn't for Miu. Her voice was really annoying and just didn't fit Miu at all. She sounded older than she should have been. Miu and Ana's voices are the reason why this english dub will get a bad name. Jesus Christ ~_~
Itoh Nobue (Carol-Anne Day) - I was alright with Nobue's voice to a certain degree. There are times when the voice was out of character, acting wise, but her voice still fits Nobue at some points, but at some points it felt a little off.
So, I obviously didn't like the ichigo Mashimaro dub. I'm usually a BIG fan of english dubs, but this one makes me want to go back to the Japanese track (Which I'll probably do from now on ~_~)