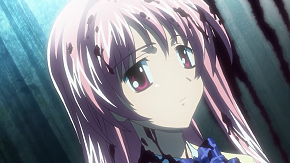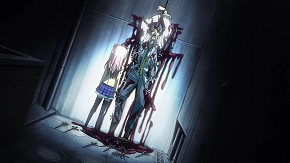 Okay. When I firsted looked at this series, the art style didn't appeal to me. Why? Because it looked like a harem style anime. I looked at the character list and it was just a bunch of girls so i figured it'd prolly be along the lines of a harem anime >___>;;
But the ratings were pretty good… 7.76 i believe. not bad for an anime that just came out. That's why I decided to give this a shot.
So first 10 minutes of this anime… i was like WHOOOAAA!!! I TOTALLY DID NOT EXPECT THIS!!!! The dark and deep setting, the vivid animation, EVERYTHING was top notch. Er… for the first 10 minutes. My thoughts went from WTF YES to …wtf…no >_>;;
Okay. This first thing that made hate this episode was Takumi's little sister. She's way too stereotypical for a little sister. Okay. That was something I could tolerate… barely…
The second thing I hated… Takumi. Okay… overly paranoid otaku hikikomri.. HMM. I WONDER WHERE I'VE SEEN THAT BEFORE. oh! I know!! NHK NI YOKOSO. ARGH. Okay, the problem is this: HE'S WAAAAAY TOO MUCH LIKE SATOU FROM NHK NI YOKOSO. Cept worse. 1. he's not as good looking and 2. his personality changes too much and it just… does click. His personality and his looks don't click at all. One moment he's paranoid and the next moment he's like Kouta from Kanokon. I was "…wtf" the whole way through. The problem with Takumi being so much like Satou is that people, like me, are going to start comparing Chaos Head to NHK ni Yokoso. NHK was… brilliant. This anime? Not so much. So far. But I don't like it so far :/ too many characters introduced at one time… a lot of instances where i thought it was cheesy that Takumi says his thoughts out loud when he's on the computer… and i hate how he's too much like satou.
The next thing I hate. Rimi. Okay… innocent little girl who abusively kills people… HMM. Where have I seen THAT before? I dunno. Hmm… maybe… HIGURASHI NO NAKU KORO NI. And this anime is not as appealing. Not to mention that there are like… 5 girls this anime HASN'T introudced and they're the main characters….
Another thing that drove me away from the series… the glossy hair. i'm sorry, but glossy hair and funky hair colors are like… SO two years ago. I hope these anime realize that the series that sell the most have characters with REALISTIC colored hair with little gloss. I'm sorry, but the gloss annoys me and it's something that was used in like 1990's. it looks disgusting. There are a LOT of moments where I feel like the background should have been more dark and grunge to fit with the mood… the bright yellow classroom killed the mood when Takumi and Rimi met in class.
Anyways, the likely hood of me droping this anime is VERY high. I'll watch the next episode and make my final decision then. But this is like… a crappy comination of Nhk ni yosoko and higurashi with some Da Capo characters thrown into it. Fun.
Episode Score: 7.2/10