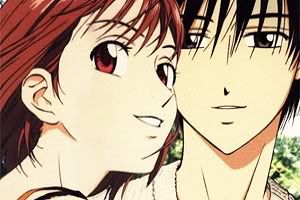 Wow, I am SO slow with this anime. I saw it in like January and never bothered to finish it until just now @_@; Mainly because the dub stopped airing at episode 11 and i got too lazy to download the episodes… but i got around to maratoning the rest of this series xD
Boy, was this anime an emotional roller coaster for me xD
I think I watched this anime at the right time, because this series hits the spot for *ahem* hopeless romantics lol…
Quick Synopsis
The story revolves around the romantic life of Miyazawa Yukino and Soichiro Arima. Yukino is the "perfect" role model who is beautiful, perfect, intelligent, and loved by everyone. However, deep down inside, she's the opposite. She's like a psycho angry girl who puts up a "role model" front to get attention. When Yukino attends high school, her first ambition is to get the highest test scores, and to become the most admirable girl in school. However, her goals are crushed when she finds that Soichiro Arima is scoring higher scores, is way more talented, better looking, and loved by everyone. The worst part is, he isn't faking it the way Yukino is! Because of this, Yukino holds a grudge against Arima and starts to truly hate him (But whenever she's around him, she "pretends" to be nice).
One day, as Yukino and Arima pass in the wallways, Arima goes up to Yukino and confesses to her, saying that he has always loved her. Yukino thinks that Arima is just trying to "trick" her, but in the end, Arima's feelings for Yukino are expressed in a way that can't possibly be a lie. Yukino begins to fall in love with Arima and thus their love blossoms~!
Story (17.5/20) A-
I love it i love it i LOVE it. There are so many things about Kare Kano that make the story perfect. I really like high school romances that revolve around ONE main couple and no weird love triangles or squares or whatever… Because of that, it allows space for the two characters to grow, and the relationship to deepen. The anime lacks in "drama" and just focuses on romance. "Wait…if there's no drama, wtf is the anime supposed to be about?" Well… it just goes into the inner thoughts of the characters, basically. But that's what I LOVE about Kare Kano. Omg…The the anime expresses how the Yukino and Arima are in love with each other in a way that's so believable you can't help but go KYAA~! Well, scratch that. It's more of a deeper feeling than "KYAA". You just feel this rush of emotions and make you realize why people fall in love with each other, and how much being in love means, etc… Tho, i can see why people wouldn't like it. I mean… if you're a boy who has never really been in love before, then Kare kano would be some crap and boring shit that you wouldn't understand… ah well..
What i also love is the humor. The humor in anime made in the 1990's shall always be fresh and funny xD I can't believe you don't see anime these days that have the same humor D:
I have to admit… towards the middle and end of Kare kano, a lot of new characters are quickly introduced and the focus turns away from Arima and Yukino D: The anime doesn't spend a lot of time with these other characters, and if they have a flash back or inner thoughts it usually lasts like…one episode. Not enough for one person to interpret or understand :/ This is where the anime starts to decline. Not only that, but there are recaps every 2 or 5 episodes. But none the less, I still enjoyed it.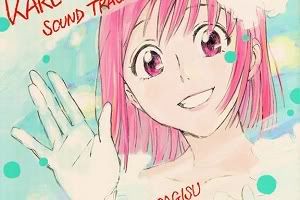 Animation (16.5/20) B-
It's hard for me to judge the animation… I mean, this anime was made waaay back in 1998 where anime was in low budget. The animation is defiantly creative in my opinion, even though at some points they're scans from the manga, still scenery, or just still animation in general. But the character design looks a LOT better than other character designs made during that time *cough serial experiments lain… ah my goddess… etc…* the animation is not spectacular but it's definatly not terrible. I would say it's pretty, and bearable :P
Sound (16.5/20) B-
Again, it's bearable @_@; At times, the BGM kind of interferes with the moment and most of the BGM is very overused and repetitive. The opening and ending theme songs are kind of addictive, but they're not the best op and eds ever. As for voice acting, I'm going to be honest. When it comes to Arima and Yukino, i prefer the english dub. When it comes to all the side characters, i prefer the Japanese dub. But Japanese dub vs English dub… I much rather prefer english dub. not because i'm too lazy to read subtitles, but because it's easier to "get into" the episode when you listen and understand the emotion, instead of reading subtitles and a somewhat understanding of japanese emotion in language….
Characters (17.5/20) B+
YES. CHARACTER DEVELOPMENT. Not only does it exist, but it's believable xD It's just so… natural how much Yukino and Arima change while being in a relationship with each other. It's also fun to watch how Arima and Yukino interact with other characters. All the characters in kare kano have their own background story that make you fall in love with them. I LOVE characters like Asaba who just brighten the mood with humor in a non crazy way xD Tho I have to admit that a few characters are there for a weak purpose, but for the most part, all the supporting characters have some kind of contributation to the story.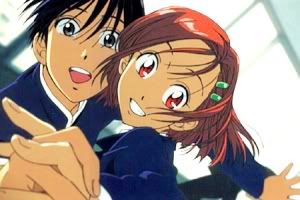 Enjoyment (18.5/20) A
I obviously loved Kare Kano, but I would only recommend it to people who LOVE love. If you love watching people fall in love, express their feelings of love, change because of love, go crazy because of love, then you MUST watch Kare Kano. I think the only people who wouldn't enjoy Kare Kano are those who don't really care about love, don't know what's it's like to be in love, or have no heart -_-. However, stop around episode 10 or 11 because the anime begins to decline due to low budget x_o;; such a shame…
Story……………. A- (17.5/20)
Animation………. B- (16.5/20)
Sound…………… B- (16.5/20)
Characters……… B+ (17.5/20)
Enjoyment………. A (18.5/20)
Overall score: 86.5/100